During these uncertain times, churches want to get their message out to their audience. This can be done pretty easily with a plugin for WordPress called Sermon Manager Pro
First, you would need a WordPress site
You should have a domain for your site, and if you already have this, you would need a good hosting account, as we recommend Secure Hosting WP. You can get both domain name and hosting there and pay annually or monthly, depending on your needs.
The second step is having good audio equipment
The equipment you need will depend on whether you want to record your live sermons while you're preaching in the church, or record sermons separately by yourself.
The good news is, if you want to record live sermons, you may already have everything you need.
If your church already has a soundboard and an available laptop for recording sermons, you may just need to purchase a small cable like this 3.5mm to XLR Cable to run from your soundboard to a laptop.
Once connected, you can then use a program like Audacity to record the sermon (more on that in the next step).
If you don't have a soundboard for your church, you could use a portable recorder like this Handheld Digital Audio Recorder. You can easily set this on your podium so you don't have to hold it the whole time.
You might also want to record sermons privately by yourself, instead of recording the live sermon, or even record additional teaching for deeper study.
Some recommended mics from the experts are:
How do you record a sermon video?
For recording video sermons, you'll need to use a video camera.
If you need to begin with an absolute minimal budget, you can record on your smartphone using a tripod. This is the cheapest way to go.
GripTight GorillaPod Stand PRO
GripTight GorillaPod Stand PRO is a good tripod for any type of phone. It has adjustable legs that can be used to attach it to any surface.
For churches with a modest budget, you can use SlingStudio's HD Video Production Unit to create a high-quality video recording that uses multiple cameras. SlingStudio lets you switch between video feeds in real-time from an iPad or laptop. You can add feeds from camcorders, DSLR cameras, or even use your smartphone.
Once you've chosen your equipment, you're ready to start recording.
Step 3: Record Your Sermon
To record your sermons, WPBeginner recommends using the program Audacity.
Audacity is a completely free program that, like WordPress, is licensed under the GPL. You can use it to record your sermons, and also edit the files for noise reduction and enhanced sound quality.
After you install Audacity, you'll need to open the program and click the File menu to start a new project.
Then, click on the record button to start recording your sermon.
Don't feel like you need to start over if you make a mistake. Just keep going, and then you can edit out the mistakes after you're finished recording.
Audacity
If you want, you can also import music files from File » Import to use at the beginning or end of your sermon.
Since Audacity is a powerful tool, you may want to check out these Audacity tutorials to learn more about all the features.
After you're done recording your sermon, you can export it. We recommend the MP3 format because it creates smaller file sizes with good quality.
Once you've saved the file, you're ready to upload it to your website.
Step 4: Upload Your Sermon Recording
Both audio and video recordings produce large files. You might be able to get away with hosting your audio files on your website for a short time, but you're likely going to run into space issues after a while.
If you want to keep your WordPress website fast, you shouldn't upload audio or video files to your own site.
We recommend you use a separate church sermon hosting service. If you're looking for the best podcast host for churches, we recommend using Podbean to upload your sermon audio recordings. You can also check out our list of the best podcast hosting services for other options.
For video files, we recommend you get started on YouTube. It is easy to use, super-fast, and free. It is also the world's second-largest search engine which means additional chances for your sermons to be viewed by someone new.
Once you've recorded your sermons and put them online, it's time to add them to your website so your own members and visitors can easily find them.
You will begin by adding the Sermon Manager for WordPress plugin. For more details see our step-by-step guide on how to install a plugin.
You will begin by adding your first sermon. Simply go to Sermons » Add New page.
First, you will need to add the title of your sermon and the date it was preached on. You must add the date preached to be able to publish your sermon.
After those two fields, there are many fields that are optional but we encourage you to fill out as many as possible. Adding thoughtful descriptions helps your sermon be discoverable by search engines.
The second set of fields will allow you to paste the URL for your files, whether you're adding audio, video, or both. There's also a place where you can add sermon notes if you'd like to attach a PDF.
Fill out the meta on the right column for things like the preacher's name, the sermon series, and then click publish. And that's it! If you're using pretty permalinks, your first sermon will now be available at:
https://yourdomain.com/sermons/
Submit your Podcast to Apple's iTunes and Google Play
Another great feature in the Sermon Manager plugin is that you can easily submit your feed to podcasts. This makes it easier for your members to subscribe and receive notifications on their phones when you publish a new sermon.
To get started go to Sermons » Settings and click on the Podcast tab. The folks behind the Sermon Manager for WordPress plugin have made this section very self-explanatory so you will be able to follow along, filling in your own data and seeing what they recommend in light gray text.
Go through each field and fill in the information so it matches your church.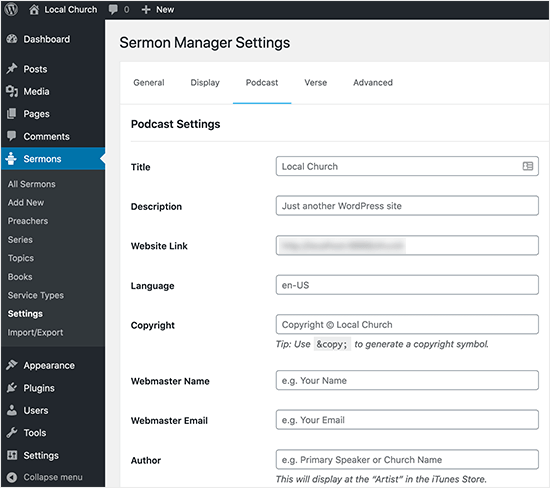 At the bottom, click the save button. Next, you'll use the link for the feed validator so you can be sure you've filled out everything correctly. When your feed validates you'll copy the link and submit your podcast to both Apple Podcasts and Google Play Podcasts.
How Do I Live Stream Sermons?
Plenty of churches are asking how do I live stream sermons, so you may be wanting to do that as well.
We recommend live streaming in addition to having sermons on your own website. If you only live stream and don't record your sermons, then you're missing out on all the benefits we listed above.
Having sermons on your website means your church members can access past sermons more easily. It can also help you to grow your website traffic.
That said, live streaming sermons can be a good way to reach new audiences on social media.
Two of the best ways are YouTube and Facebook. Facebook especially can be a good option because a lot of your members are already there and connected to your page.
But Facebook Live isn't always reliable. We've heard reports of churches having issues with their livestream crashing in the middle of the service. Using a broadcasting service instead can offer a smoother experience.
Restream will allow you to broadcast your service on your own website, YouTube, your Facebook page, a Facebook group, and other services, all at the same time.
You can also record your sermons or services in advance and schedule them to go live at the right time for a less stressful experience.
If you're live streaming your sermon using your smartphone, you'll want to make sure you're using a tripod for the best results.
After your live stream is over, you can add the video to your own site following our tutorial above.
If you need help with setting up an online feed, live or recorded, feel free to contact us for help and getting you started.
Source: How Churches Can Offer Online Sermons with WordPress by WP Beginner